How a fun, coding based life skills project started by a couple for their own children, ended up being an award-winning EdTech startup!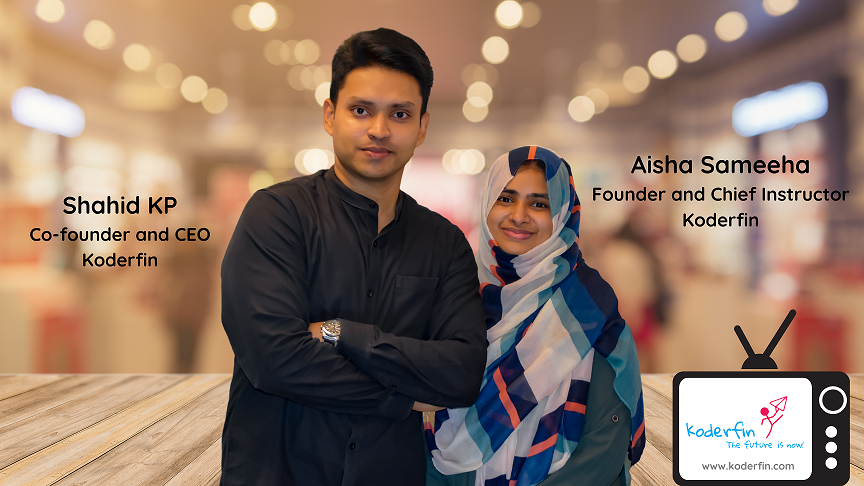 Our kids are our future and we wouldn't hesitate to go that extra mile to make sure they are offered only the absolute best of everything. Now, imagine creating a fun project for your own kids, more like a DIY project, but to your utter astonishment, it turns out to be a lot more successful and effective than what you could have asked for, so much so that, it becomes a catalyst of change in yours and other peoples lives. That is exactly the story of the couple Aisha and Shahid, and their award-winning Edtech startup Koderfin.
After completing his MBA in International Business and Marketing from London and working there for a couple of years, Shahid had finally decided to relocate to Dubai to build his career there. He landed a job as a consultant with an international relocation company, helping expats relocate to and from Dubai. His experience living and working in a multicultural city like London and then an expat oriented job in a cultural melting pot like Dubai, presented him with an amazing opportunity to learn about different people, their cultures, their diversity, and their equally diverse requirements, including schooling for kids, beyond the school learning support, and a lot more. The best part is all those experiences came in handy at a later stage. He is passionate about using technology for the greater benefit of society and is an avid nature and travel enthusiast and is also an advocate of a life skills-based learning ecosystem.
A new life in the making!
Aisha and their daughter Eshal soon joined Shahid in Dubai. Aisha is a computer engineer turned teacher, who has always had a passion for alternate teaching and learning methods. She too was educated in India and abroad, which exposed her to various teaching and learning methods from a very young age and often made her think about the Pros and Cons of the education system, something that would greatly influence her thought process at a later stage. Her new life in Dubai made her wear multiple hats, including that of a busy homemaker, a home tutor providing afterschool support for students nearby, an online content writer, and a lot more. She would also find just enough time to pursue her other passions including cooking, gardening, arts and crafts, etc.
The family would just go on with their life in Dubai and in the meantime welcomed two more members to their world, Ayham and Fathema. Life just got a lot busier and merrier for them but even with all the hustles and bustles, the couple would make sure their skills and expertise in their respective fields were enhanced at every opportunity because they both shared a common goal, to return to Nilambur, their hometown in India and start a project which could bring about positive changes to the society, making use of all the skills and expertise they gained through out their life.
Aisha would spend countless hours researching the latest educational trends and would also speak to students, parents, and teachers to understand their problems and the changes they would like to see in the education sector. She would then discuss her findings with Shahid, who would analyze the data and conduct a feasibility study for her. The couple immediately realized a huge demand for a skill-based learning ecosystem and they thought they had a viable model for their dream future project back home. But little did they know then what was in store for them.
The unforeseen twist!
It was 2018 and the economy wasn't in great shape and it did have a catastrophic effect on their career prospects and also on some other projects they were working on. After several years of considerable growth, the couple was by then literally facing testing times. Shahid had to make the tough call of sending Aisha and the kids back to India, with a promise they will be together soon. Although they always wanted to return to India sooner than later, this wasn't how they wanted it to be. He eventually managed to get a new job in Dubai but with his family not by his side now and the scope of their dream project drifting further away, life was never the same for him. Nevertheless, the new job was still a great relief, and he decided to use his time to upskill himself by continuing the market research and also enroll in multiple courses as he wanted to be market-ready the moment any opportunity kicked in.
Aisha and the kids were by now trying to settle back home. Fortunately, as always, their parents were very supportive, which made the transition a lot easier than they had anticipated. The kids got enrolled in the very same school where the couple had done their schooling, which greatly helped in building a good rapport with the teachers and the school management. Once the immediate priorities were sorted out, Aisha too decided to upskill herself and got enrolled in an international teacher certificate program. She is a woman of immense determination and she wasn't ready to give up yet. The new teacher training program also meant the data which they had from their Dubai days would now come in handy and it was also the right time to put those into practice. She had by then started an after-school learning support program for a few of her neighbouring students, giving her the opportunity to test some of her favorite alternate teaching and learning methods, that too with great success and positive feedback from students and parents.
Aisha also resumed her research on the latest educational trends and unlike the earlier times, she noticed a paradigm shift towards technology-centric teaching and learning methods, especially in the western countries but the trend was yet to gain considerable momentum in India then. She wasn't quite sure how to take it forward and thus decided to ask Shahid to work out yet another feasibility study. The findings were exciting and the couple started getting the feeling, this could be the dream project they have been searching for. But at the same time, they also wanted their project to be unique and highly effective even for students from pre-school and above. Aisha was thus once again tasked with the challenge of using her computer science background, the research data they already had, and her newly acquired international teachers training skills to work out a fun, coding based life skills project for their own kids, which would then give them the much needed real-world test results.
The good news, an education innovation award, a patent, and the birth of their dream project, Koderfin!
Their kids loved the fun project and the results were very promising. But the couple didn't want to stop testing the project yet. Aisha then approached their school and requested to let them run it as a pilot project there and to their great relief, the school welcomed their suggestion with open arms. The project was all about mapping coding and other futuristic skills like robotics and AI to regular schooling and essential life skills, from pre-school and above, thus equipping students of today ready for a challenging yet interesting tech-driven future. The results from the pilot project were also highly encouraging, to that extent, the school management agreed to introduce it as a part of their regular curriculum from the new academic year.
"Koderfin is not a project to create just another bunch of programmers but is all about using coding and other futuristic skills to help students achieve their goals, all the while acquiring some essential life skills too. Such a skill-based learning ecosystem, that too from pre-school and above, will help build a market-ready and selfreliant society."
It was also the same time when Aisha won the 'ZIIEI Education Innovation Award' for their dream project. This recognition boosted the couple's confidence manifold and they were by then a lot more confident, they have indeed been chasing their best dream yet.
The couple was invited to IIT New Delhi for the HRD ministry supported 'ZIIEI' award function. Shahid flew to New Delhi to join Aisha and their family for the grand function, expecting to be back in Dubai in a week's time. The award function was a great success and also an amazing platform for the couple to meet with some of the big names in the Indian education sector. However, contrary to their earlier plans, instead of returning back to Dubai, Shahid had to join his family on their way back to their hometown, thanks to the unforeseen Covid-19 pandemic and subsequent cancellation of international flights.
The couple was now back in their hometown but this time though, they were pretty sure it was finally the time for them to make their dreams come true. They had also by then won a patent for their award-winning pedagogy, which they lovingly call Ai-share. After several years of hard work, research, and patience, the couple was finally ready to launch their EdTech startup, which they named Koderfin, with a tagline, 'The future is now'. Koderfin is a combination of two words, Koder, which represents the significance of coding, and fin, which stands for 'Future is now'.
Koderfin caters to both B2C and B2B segments. Their B2C programs include live, fun, and interactive online classes covering coding, subject tuitions, language skills, and soft skills, for students from grades K-10, from just anywhere in the world.
The Ai-share-based B2B programs include a custom-made curriculum add-on for schools and educational institutions, helping them to introduce futuristic skills like coding, robotics, and AI mapped to regular schooling and essential life skills. In this program, schools will get access to Koderfin trained teachers, Ai-share-based learning materials mapped to the regular school curriculum, innovative teaching tools, and a lot more.
Koderfin started their journey with just a handful of students and a couple of teachers but the growth of Koderfin has been phenomenal, especially in such a short period of time. However, the couple literally had to move out of their comfort zones to get Koderfin up and running. They both have clearly defined roles, with Aisha taking care of the teaching side, including teacher management, and Shahid is in charge of other aspects, including content creation, marketing, business development, and more. Being a couple run business, they always make sure their skills and expertise complement what Koderfin as a cause and as a business stands for.
"The success of Koderfin is not just about us. It is about the teamwork of our dear teachers, students, and wellwishers, without which it wouldn't have been possible"
The challenges and the future ahead!
The Indian Edtech scene is getting immensely competitive and is expected to remain so in the foreseeable future but the couple is pretty confident about a brighter future for Koderfin, especially as the EdTech industry is fast-moving to a skill-based learning ecosystem and they are already prepared for the same with their own award-winning, patented and easily scalable Ai-share pedagogy.
The couple's efforts haven't gone unnoticed and Koderfin has been the winner of multiple awards and recognitions including 'IESA Distinguished Online Tutoring Award', 'Best Software Skill Training Education Consultants in Kerala', ' An invitee to BMWi-MEP initiative by German Federal Ministry for Economic Affairs and Energy, ' An invitee to Kerala Startup Missions Big Demo Day 2.0', etc. to name a few.
Koderfin has students from India, Middle-east, Europe, and North America but they have ambitious plans to expand further into more countries. They are also exploring local-partnership in respective countries to help them reach far and wide.
"We have innovative projects in the pipeline for the new year. We are looking forward to associating with likeminded teachers, business partners, and other stakeholders. At Koderfin, we always believe in existence through coexistence".
If you're inspired with this story, do share it with your friends and family & be their fountain of positivity! Don't forget to share your views and experiences with us in the comment section; we care for all of you!